Irwin UKM Capabilities
UKM's process capabilities allow for a diverse range of products to be produced. Over the years customers have returned to UKM time and again for several products in particular that maximize the UKM Advantage and allow us to provide real value.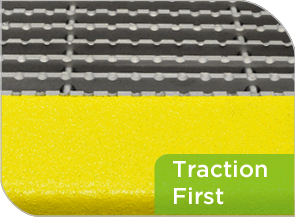 Traction-First Technology
Traction-First Technology is an extremely durable, inert, slip resistant coating that can be applied to any new or existing metal flooring or walkway. This textured surface is far superior to traditional flooring systems when it comes to passenger safety. Stainless steel diamond plate or other anti-skid tapes do not meet Federal standards, are destined to wear off over time and will require constant monitoring and maintenance.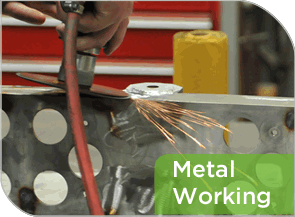 Metalworking
UKM has historically built their reputation on core metalworking capabilities. Our machinists and fabrication experts work with a variety of metals and gages along with composite materials, rubbers, plastics and other compounds necessary for diverse assembly operations. Our equipment includes: 7 vertical mills (Fadal, Mazak,Okuma, Hardinge), 2 horizontal mills (Toshiba), 4 turning centers (Daewoo,Doosan), Several manual machining mills and lathes, full CADCAM and digital document system support, plus fabrication support with press breaks, channel roller, arbor presses, notcher, hole punch, cut off saw and shears.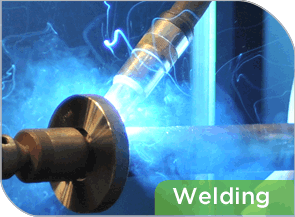 Welding
UKM's expertise in welding is unsurpassed in the industry and considered a critical element of UKM's Advantage. Whether it be for prototypes, development, small or large scale, UKM has the welding power to meet any customer's need. Our equipment includes; PowerWave Robotic welding (2011 Lincoln system55 i400-100iC and multiple workstations, along with several TIG, MIG, Stud, Spot, Heli Arc and Plasma Arc systems
Plasma Spray
This capability is integral to UKM's Traction-First Technology and it is an expertise that clearly differentiates UKM in the market. UKM has historically been the benchmark in metal matrix depositions and will continue to shape the future of this technology. Our equipment includes; Several custom designed and modified metal spray systems with support booths, cleaning ovens, preheat/annealers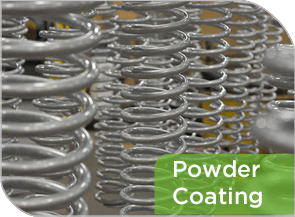 Powder Coat
UKM has always maintained a fully integrated manufacturing operation, with in house capabilities that compliment our fabrication products and assemblies. Powder coating is no exception or limitation for UKM. This is a benchmark technology for UKM that is continuously being improved for future applications. Our equipment includes; custom built full service powder coating spray systems with cleaning, bake, electrostatic spray and hoist, in clean manufacturing space conditions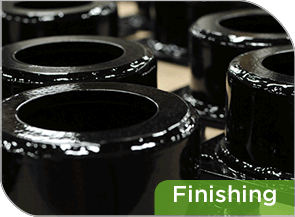 Finishing
UKM is also very sensitive to insuring that the finishing touches on our products make all the difference to the customer and sets us apart from the competition. From the quality standards we set for ourselves to craftsmanship we expect, UKM is the rail industries benchmark. Our equipment includes; Sand blasting, trimming, annealing, grinding, polishing, painting, surface treating, etc… Our Quality Control and Assurance has support equipment, optical comparators, CMM, Pot testers, profilometer, hardness, hand held precision micrometers and equivalent instruments throughout the shop floor
OUR ADDRESS
UKM Transit Products
1901 Gehman Road
Harleysville, PA 19438
OPENING HOURS
Monday - Friday, 08:00 AM - 05:00 PM
© 2022 Irwin Car. All Rights Reserved.